Ok here's the update. Windows is supposedly have a successor to desktop virtualization called Windows Virtual PC (this is currently in Beta). Well, i wanted a virtual desktop so i downloaded Windows VPC (the VPC website "knew" i was on Windows 7 and directed me to download Windows VPC instead). When i tried to execute, it failed saying i didn't have virtualization hardware (CPU) and i didn't of course (i used a Dell 1525 btw).
So i wanted to use Virtual PC 2007 since its not a requirement there to run VPC technology with hardware virtualization. That failed too, shucks…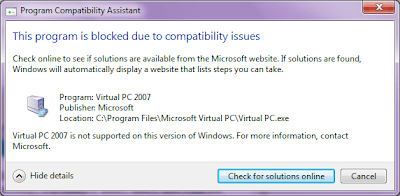 Somehow, 7 didn't like VPC 2007. Well, there's a "fix" and it's as simple as removing Windows VPC and also please use Virtual PC 2007 (without SP1).
If you still can't make it work (through Add/Remove programs) and that above compatibility error still pops, the software (which has a KB update) could still be lurking. Remove that too. Here's how :
Go to Programs and Features, select view installed updates and remove the KB958559 update, remove Windows VPC (if you haven't already done so) and restart the computer. That should remove all traces of Windows VPC.
Once again:- To run VPC 2007 in Windows 7 (in RC build 7100)
Remove all related software to Windows VPC (also remove update KB958559 in "uninstall updates")
Instal VPC2007 without SP1 (somehow this has driver issues)
And that sort of fix my VPC, everything is great again.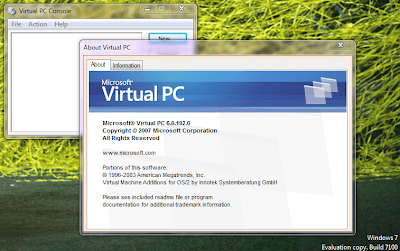 If you are stilllllll having problems, i suggest the Open Source's Virtualbox for Windows (http://www.virtualbox.org).
Have fun!