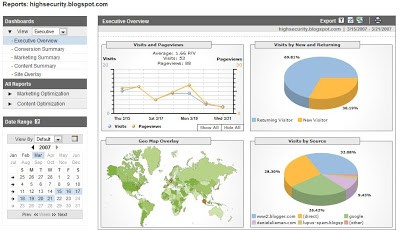 Google Analytics is a cool free Site Tracking tool from, oh, you guessed it, Google. I use it for my blog sites (this) and other sites that i help manage. The best thing of it is that its free. You would need of course a Google account (e.g. Gmail) to start with.
Try it out: www.google.com/analytics
It works by embedding a tag inside your website pages. Just add these few lines of codes and start to gather interesting information about your visitors. It can produce custom or built-in reports in charts and exportable in XML, Excel etc. Select a range of dates in which you would like to generate these reports and its immediately updated in your browser.
You could also add profiles to administer and generate reports, setup goals to your website.
Large organizations to small people like me, use this tool for fun or to generate useful information about trends and make informed decisions about your website and future developments.